Pressure Point Kyusho
Pressure Point Self Defence training.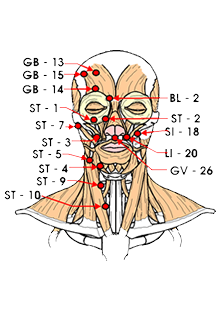 Types
The Nervous System
There are several types of pressure points - each is applied differently and each creates different effects. "Pain points" ,for example, use tendons, ligaments and muscles; the goal is to temporarily immobilize the target or, at the very least, distract them. "Reflex points" produce involuntary movements, for example, causing the hand to release its grip, the knees to buckle, the target to gag, or even for the person to be knocked unconscious. Most pressure points are located on pathways on the nervous system.
Pain
Some pressure points produce pain when struck, pressed, or rubbed, depending on the point itself. These points are also referred to as nerve centers. While the distraction of pain might offer sufficient advantage in a fight or flight, the body has a pain withdrawal reflex, whereby it reacts to pain by moving away from the source. Martial artists can use this reflex with minimal effort.
Blood and Blood Pressure
The baroreceptors in the carotid artery are pressure-sensitive, supplying the brain with information to control systemic blood pressure. Pressure against this region will send signals that indicate that blood pressure is too high, leading to a lowering of blood pressure.
Self Defence
Physical self-defence is the use of physical force to counter an immediate threat of violence. Such force can either be armed or unarmed. In either case, the chances of success depend on a large number of parameters, related to the severity of the threat on one hand, but also on the mental and physical preparedness of the defender.